This special seasoning it's very easy to prepare and gives you great amount of calcium; sesame seeds infact contains 800-1000 mg calcium per 100g and they are rich in omega 6 fatty acids and phytosterols. So great for flavoring first courses, vegetables, but also sauces and sauces.
Il gomasio (goma= semi di sesamo e shio= sale) è semplicemente sale marino integrale e semi di sesamo che vengono tostati e poi pestati in un mortaio speciale che si chiama suribachi.
Questo che vedete è in rapporto 1:18 ovvero un cucchiaino raso di sale e 18 colmi di sesamo. Utile in caso di cali di pressione, stanchezza, mal di testa, nausea, insonnia, ma anche post convalescenza (in questo caso in rapporto 1:7).
Si sposa perfettamente con il riso integrale con potrete prepararci delle crocchette squisite. Va conservato in un contenitore ermetico in un luogo fresco e asciutto e consumato entro una settimana. 
Autoprodurlo ha effetti benefici non solo a livello fisico, infatti è una vera e propria forma di meditazione, aiuta a centrarsi e a stare nel presente….inebriati da un magnifico profumo!
Ingredienti:
1 cucchiaino raso di sale marino integrale
18-20 cucchiaini colmi di sesamo
Preparazione: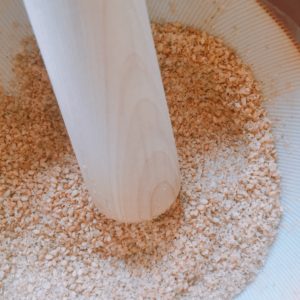 Aiutandosi con un colino sciacquare i semi di sesamo e riporli in una padella in acciaio dal fondo spesso su una fiamma inizialmente alta, facendo attenzione a girarli continuamente per non farli bruciare. Quando vedete che l'acqua è evaporata abbassate la fiamma e continuate a girare i semi di sesamo con un cucchiaio di legno. I semi saranno pronti quando inizieranno ad emanare un piacevole profumo e girandoli con un cucchiaio in acciaio vedrete che scivoleranno perfettamente senza che restino attaccati. Riporrei i semi in un recipiente. A questo punto tostare anche il sale per qualche secondo, giusto il tempo per fargli eliminare l'umidità. Unire al sesamo nel suribachi e iniziare a pestarli insieme, in modo tale che i chicchi di sesamo aprendosi faranno penetrare il sale all'interno. Lasciare che una parte di semi restino interi (pestarlo all'80%).