Would you makes
your immune system much more strong and resistant
? Then this soup it's really the best.
Shiitake are medical mushrooms, in particular they are immune modulators, getting the immune system more resistent to infections.
Come tutti i funghi vanno comunque usati con molta parsimonia.
Ingredienti per

4-6

persone:
Una piccola cipolla dorata
3 spicchi d'aglio pelati
1 cucchiaio di olio extravergine di oliva
1 cucchiaino da caffè di curcuma in polvere
6-8 funghi shiitake senza gambo messi in ammollo per 30 minuti
1 cucchiaino di miso di riso
Il succo di 1 limone
2 cucchiai di zenzero fresco grattugiato
1 litro di brodo vegetale
150 g di zucca butternut a dadini
150 g di cavolo tagliato a julienne
Un pizzico di pepe nero
Preparazione: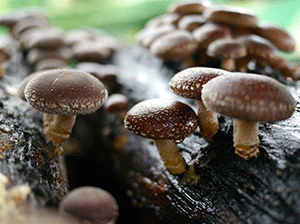 In una pentola di medie dimensioni far riscaldare l'olio a fuoco medio-alto. Saltare la cipolla tritata e gli spicchi d'aglio per 3 minuti. Aggiungere la curcuma e i funghi tagliati a dadini e saltare per 2 minuti. Aggiungere il brodo, la zucca, lo zenzero, il cavolo e il pepe nero. Portare a bollore, abbassare la fiamma coprire e cuocere a fuoco lento per circa 15 minuti. Togliere dal fuoco e lasciare intiepidire.
Aggiungere il succo di limone e il miso. Coprire e e far riposare ancora 5 minuti prima di servire.