Feeling gratitude in your heart it's quiet different from simply say "thank you". To say thank you for many people it's an automatism, something that has been teach us during childhood. Quello che però i nostri genitori non ci hanno quasi mai insegnato è di associare a quella parola anche un sentimento, il sentimento della gratitudine. Un po' come quando si dice di sentire il proprio respiro e anziché sentire il respiro "pensiamo" a come sentire il respiro.
Gratitude makes sense of our past, brings peace for today and creates a vision for tomorrow.
– Melody Beattie
Diversi studi scientifici hanno studiato e stanno studiando l'impatto che la gratitudine ha sulla salute e si è visto che gli effetti benefici sono tanti sulla mente e sulle emozioni, in altre parole, sul nostro benessere globale.
Sul piano fisico infatti essere grati aumenta la vitalità, migliora la gestione dello stress, riduce ansia e depressione, abbassa la pressione, migliora l'autostima e rafforza il sistema immunitario.
Come possiamo coltivare il seme della gratitudine?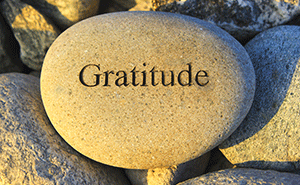 Tenendo un diario della gratitudine in cui elencare tutte le esperienze della giornata per le quale ci sentiamo grati. Scriverne almeno 5, ma ovviamente più sono e meglio è!
Approfittare del momento dei pasti (almeno 3 volte al giorno!) per entrare in uno stato di gratitudine. Prima di ogni boccone dire "grazie" con il cuore per le piante, gli elementi della natura e del cosmo, le persone che sono in qualche modo entrate in contatto con quel cibo nella fase produttiva ma anche per chi quel pasto lo ha preparato. Fare questo aiuta anche a rallentare la velocità con cui si mangia e quindi migliora la digestione.
Ringraziare il corpo, il nostro tempio sacro. Ogni parte del corpo che è in salute e che ci consente ogni giorno di sperimentare al meglio la vita, i sensi, ma anche tutti i nostri organi.
Fare una passeggiata di almeno 20 minuti preferibilmente nella natura, va bene anche un parco. Mentre cammini adopera il respiro e i sensi per radicarti e centrarti. Cammina sentendo tutto ciò per cui sei grato nella.
Essere grati è espressione della nostra capacità di amare, aiuta a diventare consapevoli e a focalizzarci su ciò che già abbiamo facendo arrivare più facilmente sulla nostra via i nostri desideri del cuore!